Perfectly crunchy, tasty, with nice clusters, peanut butter granola.
In collaboration with Fitness.com.hr.
A really long long long time ago, I made THE peanut butter granola and fell in love with it. It was so perfectly crunchy, just the way I like it. Delicious!
As I was making it and writing down the recipe, I somehow lost the paper and gave up on the idea to make it again until I found it, until recently, when I gave the granola another chance.
Here it is,  the day have finally arrived, I am very pleased with the recipe, and I hope you will be,too.
200 g fine oat flakes
1 tsp cinnamon
20 g quinoa puffs or shredded coconut
a handful of almonds, about 70 g
160 g peanut butter, crunchy or smooth
40 g coconut oil
120 g rice syrup
Pieces of dried banana and dark chocolate, to add after baking.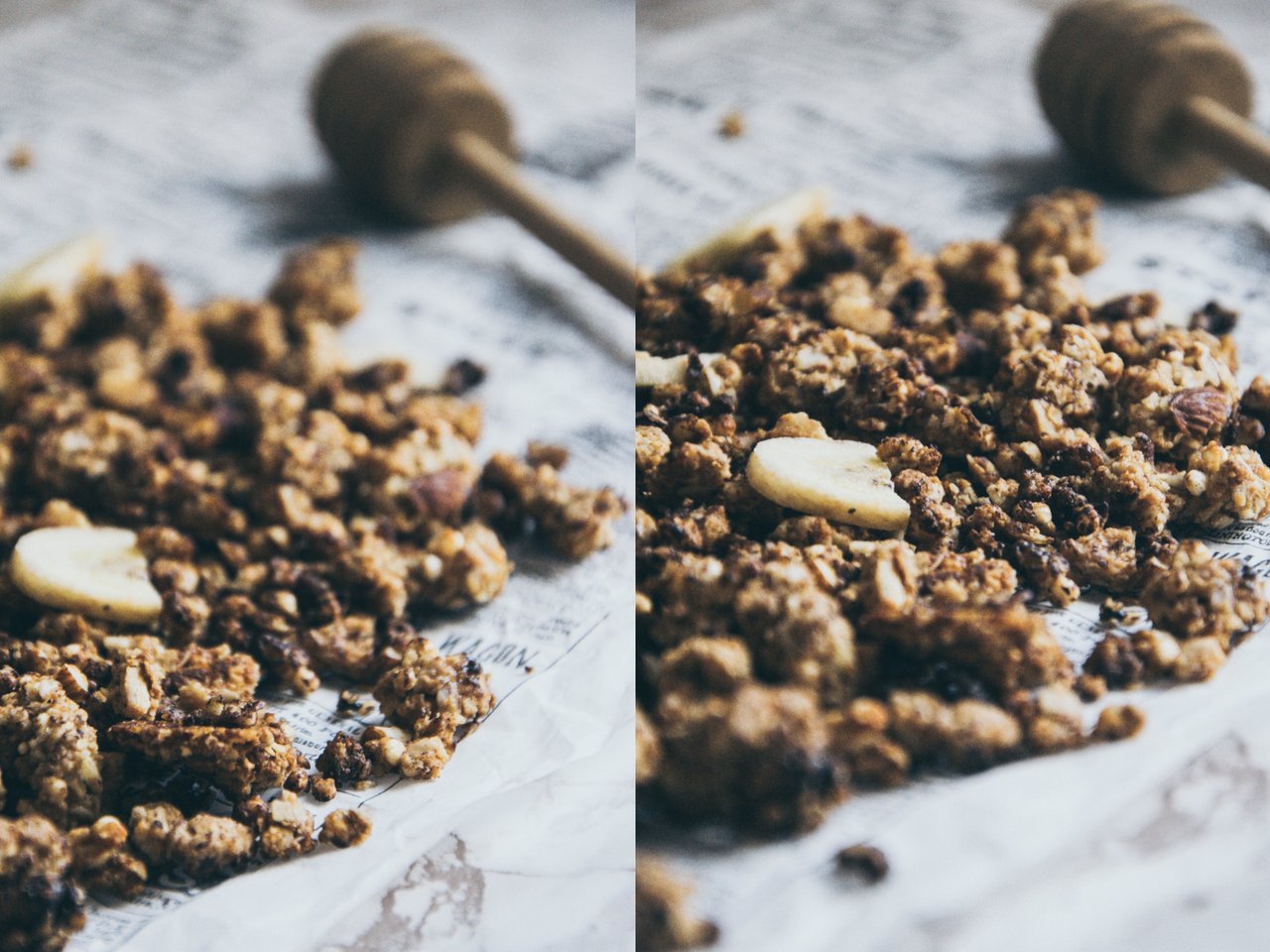 Melt the peanut butetr, coconut oil and about 80 ml of rice syrup in a pot, until are well combined. Stir occasionaly.
Combine the oats, coarsed almond, cinnamon and quinoa puffs and pour the liquid mixture over them and combine the ingredients with your hands.
Distribute the mixture evenly on a baking tray lined with parchment paper, then pour the rest of the rice syrup over it and crunch it with your hands in order to get big granola clusters.
The rice syrup works great as a glue and it is just sweet enough.
After you've made some clusters, make sure that the granola is distributed evenly and then bake it on 180C degrees, for about 10 minutes.
Take the granola out of the oven, lower the oven temperature on 160 C degrees, stir the granola and continue baking for addiontal 10 minutes or a bit longer.
Be careful not to burn the granola, but if you feel like after these 10 minutes it just isn' quite ready, leave it a bit longer, but keep an eye on it.
Once it's done, I stirred in some small chocolate chunks (1 rib) which made the granola less sweet and it allowed the chocolate to melt into the granola. If you prefer, you can add it later, once it is cold and lastly, before you store it in an air-tight container, you can add some dried bananas or even additional roasted peanuts.