Soft, sort of "fluffy" muffins, a real treat & vegan friendly!
Enjoy them as a dessert or breakfast.
There is a banana bread recipe and banana oat mini cakes recipe on the blog (find the links below).
Now it is time for banana muffins as well in a vegan version, cuz why not?!
I made this recipe two days in a row to see for myself if they are really THAT GOOD, and let me tell you...THEY ARE!
So...I hurried to write the recipe for you as well, so you can see for yourself what am I talking about.
They are kind of tender, slightly sweet  and soft, they even sort of melt in your mouth.
Approved by us at home, Ziggi and the neighbours. :D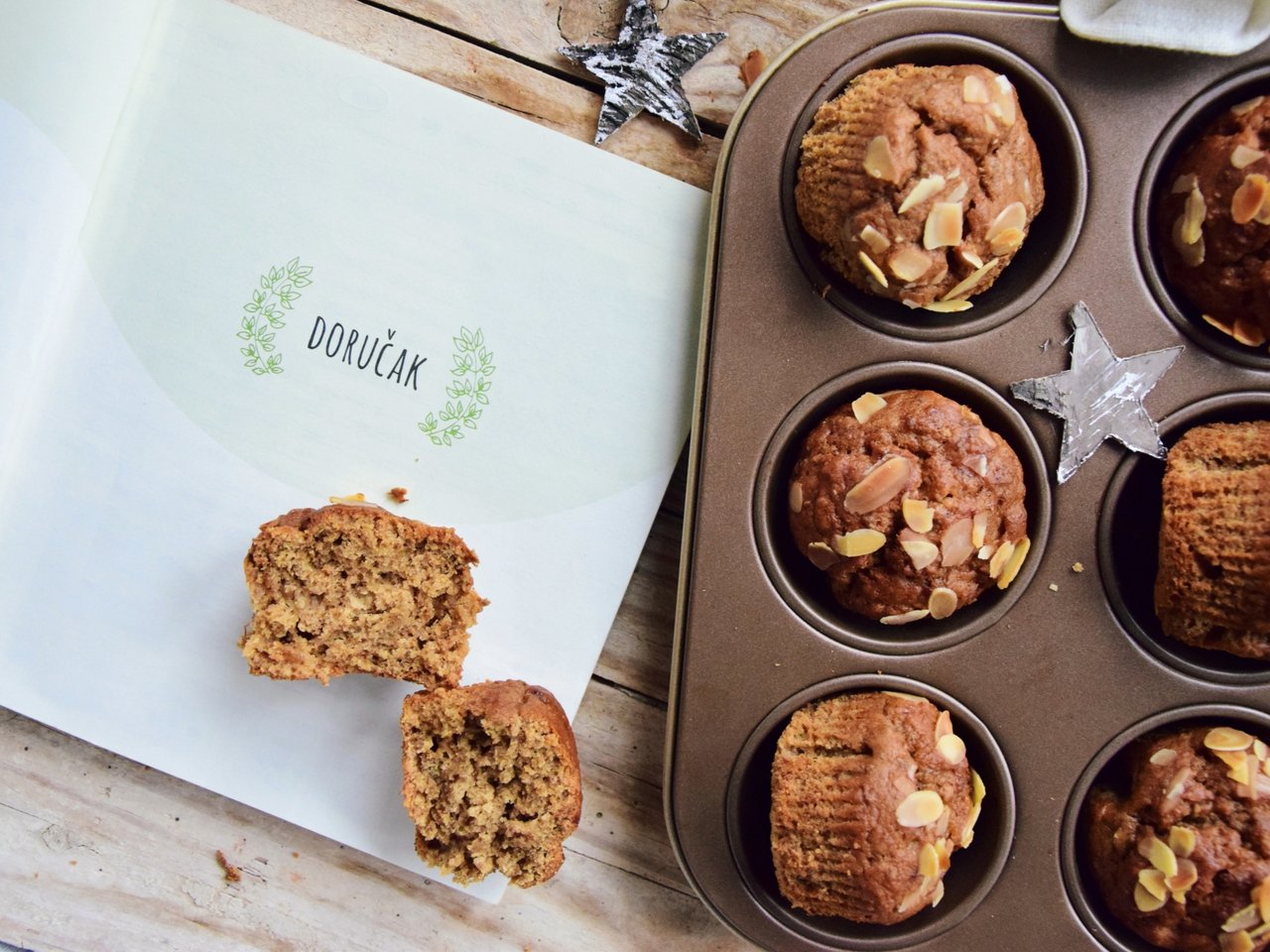 I've written down this recipe in the Recipe journal I created (only croatian edition available, link below) in the "Breakfast" section, but I decided to put it down in the Sweet corner on the blog because, even though I enjoy them more as a breakfast treat, they can easily go pretty well as a dessert for your afternoon tea or coffee.
300 g softened bananas
1 tsp ceylon cinnamon
1 chia or flax egg*
80 g coconut palm sugar
80 g almond butter, I love My Protein's almond butter
80 ml almond milk
45 g extra virgin coconut oil, melted
100 g spelt flour
100 g wholegrain spelt flour
15 g baking powder
*Chia egg: 8 g chia seeds + 2-3 tbsp water. Stir and leave to thicken.
Use almond flakes to garnish the muffins.
Make the  chia egg.
Peel the bananas and mash them with a fork, sprinkle the cinnamon on top and stir.
Combine the coconut palm sugar, syrup, almond butter, chia egg and milk with a whisk.
Melt the coconut oil.
Stir in the mashed bananas to the wet mixture, then pour in the coconut oil as well, combining it all together.
Lastly, stir in the flours mixed with the baking powder, to get and even mixture.
You do not need to everstir it, just make sure all the ingredients have incorporated well.
Use an icecream scoop to take out even mixture drops that you will place in the muffin tins, lined with muffin parchement paper.
The mixture will be enough for 12 muffins.
Bake on 180o C for about half an hour.
Test if the muffins are done, by using a toothpick.
Once they are baked, take them out of the muffin tins, leave them in thei parchment paper  and place them on a wire rack for cooling.
Enjoy!