Spring is in the air, time for new awakenings & this month's favourites are just in that tone - warm, gentle and bright...
This time I am starting from the beginning, showing the things I discovered day by day...it is all in the sign of peace, refreshment and brightness, so I really hope you will find something interesting for you.
1. For starters, here it is, "Hygge", a danish recipe for a happy life, by the author Meik Wiking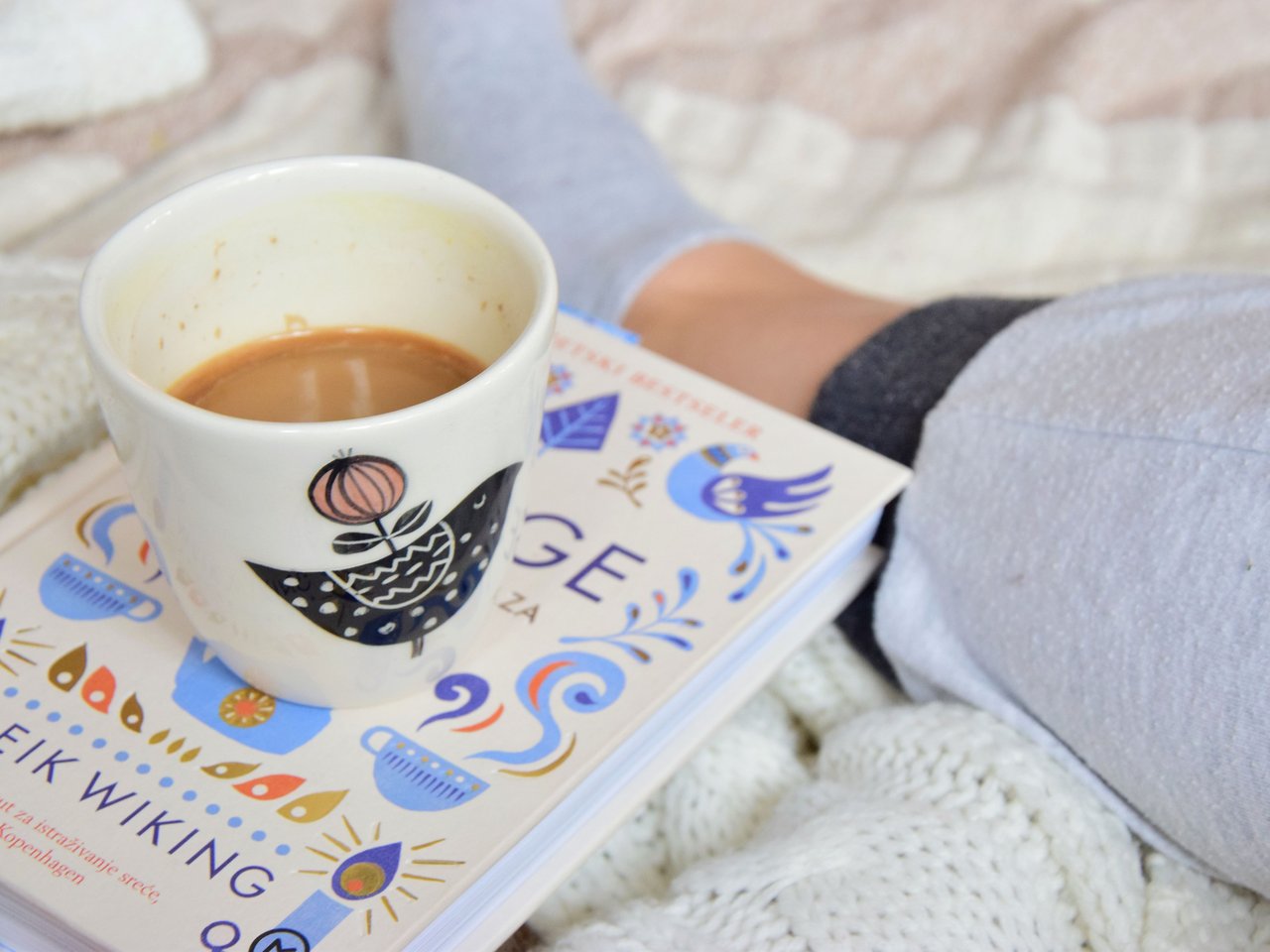 World's bestseller that people have been talking about for a while now, so I decided to give it a try since it sounds interesting and the book cover is also very appealing.
Actually, I didn't know what to expect from the book, or what will I actually find in it, so it was a nice surprise when I just flipped through the pages of the book and realized it was truly designed in a tempting way, with short chapters, warm photos that you wish to dive in and cool sketches.
But, what does actually "Hygge" even mean?!
As the author itself says, it is hard to find the right translation for the word, but it has a lot of meanings/associations: enjoying the company of our loved ones, the feeling of belonging to home, feeling protected and safe in our home...a place where we feel comfortable, relaxed thanks to certain triggers that are actually the key to the creation of a warm and cozy enviorment and atmosphere.
In short... THE MANIFESTOF HYGGE
1. Atmosphere/enviornment, dim light
2. Presence, be here, now. Turn off your cellphones
3. Pleasure, coffee, cake...comfort food
4. Equality, "we" instead of "me"
5. Gratitude, enjoy everything you have. Maybe it doesn't get better than that.
6. Harmony
7. Cosiness, make yourself comfortable, breathe and relax.
8. Truce, no drama!
9. Community,  build relationships and  a common past...
10. Shelter, the people who surround you are your tribe. You will find peace and safety here.
Details, small things... that's what makes our life more beautiful, serene, calmer and full of love!
A book that will make you feel relaxed and that you will swallow in one day, literally! A book that will remind you of the essence of life.
2. Yoga
Harmony within and on the outside.
After reading the book I talked about last month, "Meditation", yoga was kind of an expected sequence, since I wanted to try it out for a long time, now.
A very powerful tecnique and practice that connects you to yourself  (inner self) and helps me breathe, focus and be strong...thanks to yoga I become one, if nothing else, just for a few moments i dive into complete peace. The experience is not always the same, nay, but the feeling after an hour and a half of complete surrender to myself is something indescribable.
I am finally learning to breathe and open up...my breath cleans all the negativity that's been building up within me, which I then breathe out -  something truly extraordinary.
I am feeling parts of myself that I didn't know I can feel, listening to my body and relaxing it.
This is my first real experience with this practice, but I can say with all confidence that is the best thing I have ever tried. Since I always go to yoga in the morning, my whole day becomes more peaceful and calmer.
I also do my workouts in the afternoon, like fit box and so, as usual, but the combination of those two somehow complete each other.
Thumbs up for joga!
I am only a beginner, but I believe that in time it will only get better and better...physically, psychically and spiritually.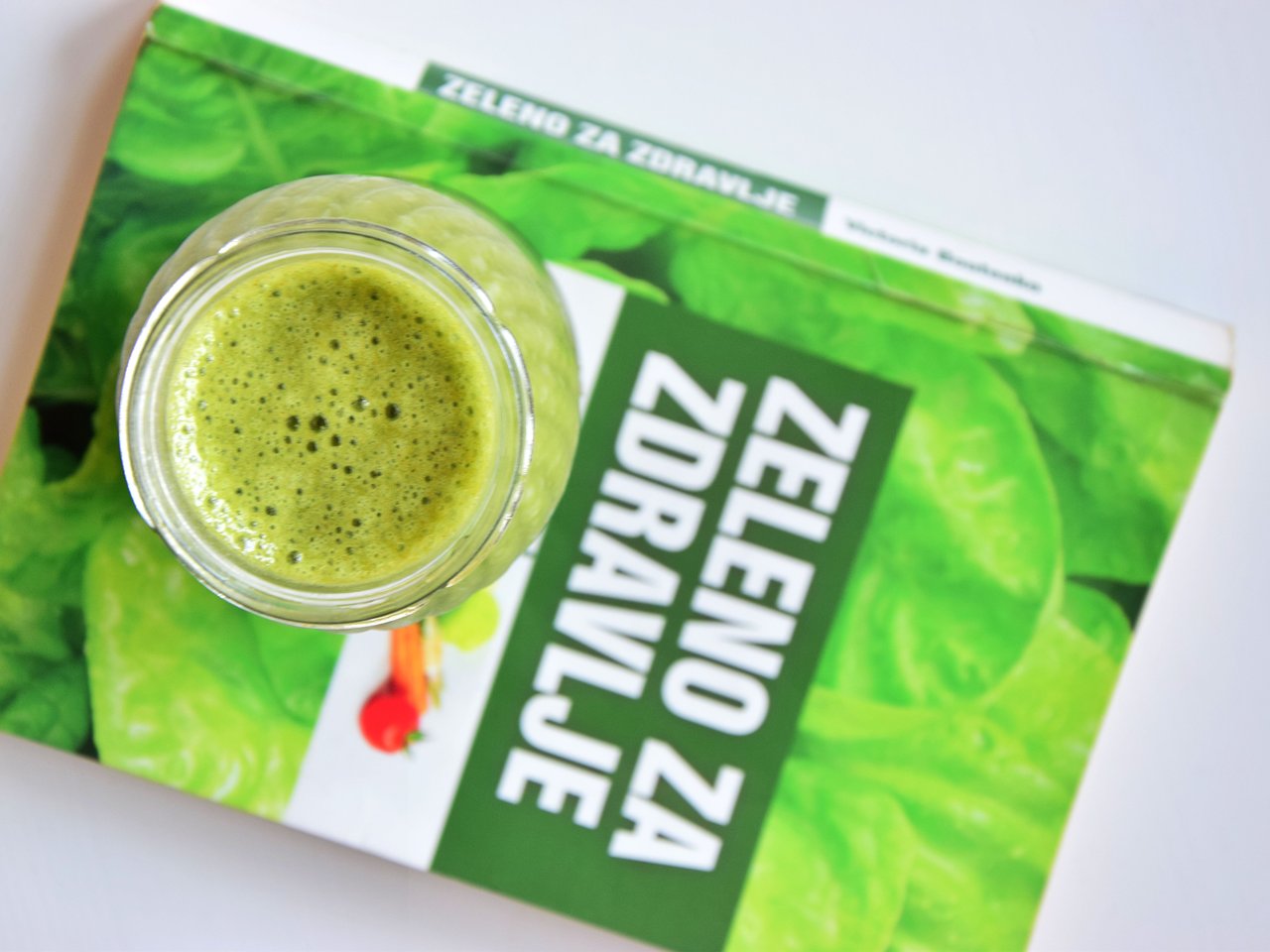 - "Green for Life" by the author Victoria Boutenko
One more book reccomendation this month. I decided to write a separate post about this book soon, so I won't get overboard here about it.
The book is really concise, yet complete in its information and emphasizes the importance of the green consumption in our nutrition, especially through juices. I will write more about it this month, so keep that in mind, if you are interested.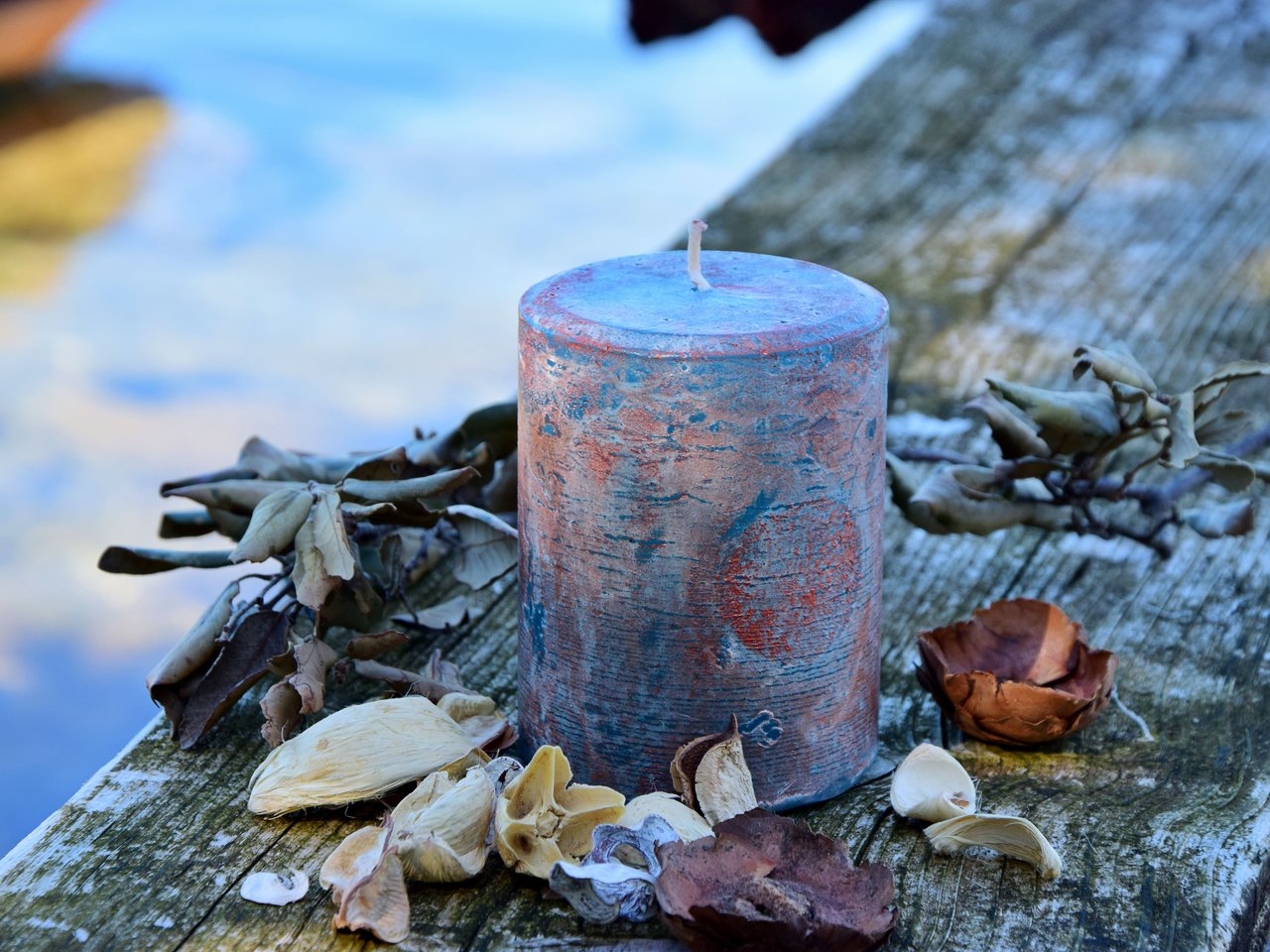 3. Whisper of Nature candle
In search for a beautiful, yet natural candle, I run into this one!
Whisper of Nature website came immediately to my mind when thinking about where could I find such thing, and obviously I wasn't wrong.
This little beauty has such gentle,but intense colours and it immediately caught my eye. The price is pretty decent for such a big and special candle, so I made my order.
The candle is inspired by Morocco and the message that carries is not to forget about our courge and to opet up ourleves to new experiences and adevntures. 
The size of the candle is 7.5 x 10 cm and the burning is approximately 75 hours. Price: 59,00 kn/ about 8,00 euros.
I also ordered the incense cones for the apartments, but since I think they "smoke" a little bit too much in a closed area,  I will use them for the warm summer nights outside on the terrace. I think they'll be great for that.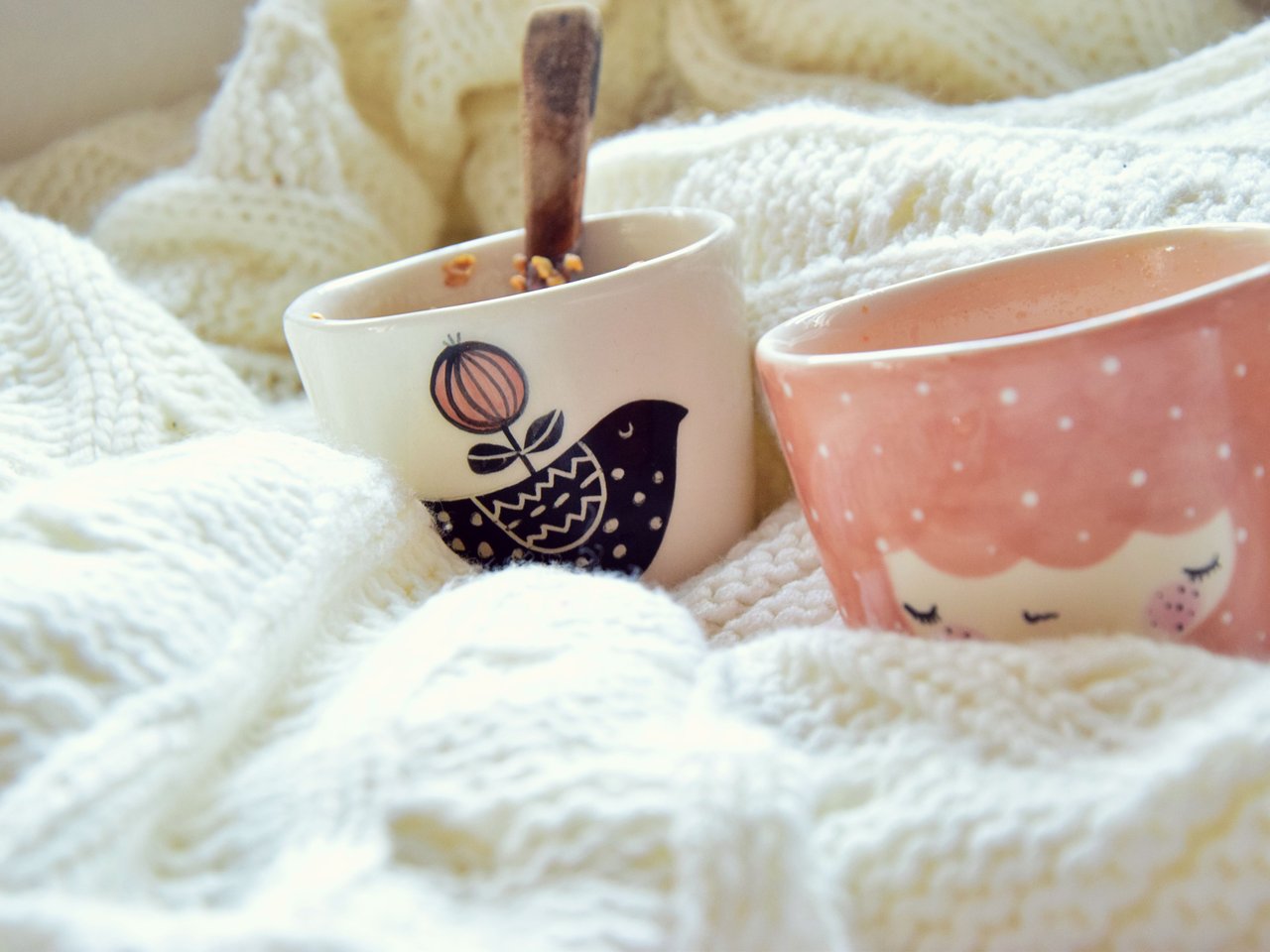 4I. Adorable Marinski Heartmades
No fuss, no muss! Let's buy croatian, o yes!
This was love at first sight and this cups are definitely my favourites this month.
I ordered them in a set, a really really love their size/2 dcl, the shape, colours and motif that the author of these beautiful handcrafts uses. 
The price is a bit expensive, 245,00 kn/about 32,00 euros, but love does not ask! :D  I told myself, come on, you can afford them now, don't just cry for them at home...and you know what happened...a couple of days ago this birdy cup broke while I was cleaning the kitchen, but I will get myself another one of those... :) 
Check out Marinski.me website, you can find all sorts of mugs, vases and cups that you will surely love. I always like to support homemade brands and products, especially when they are special and of high quality.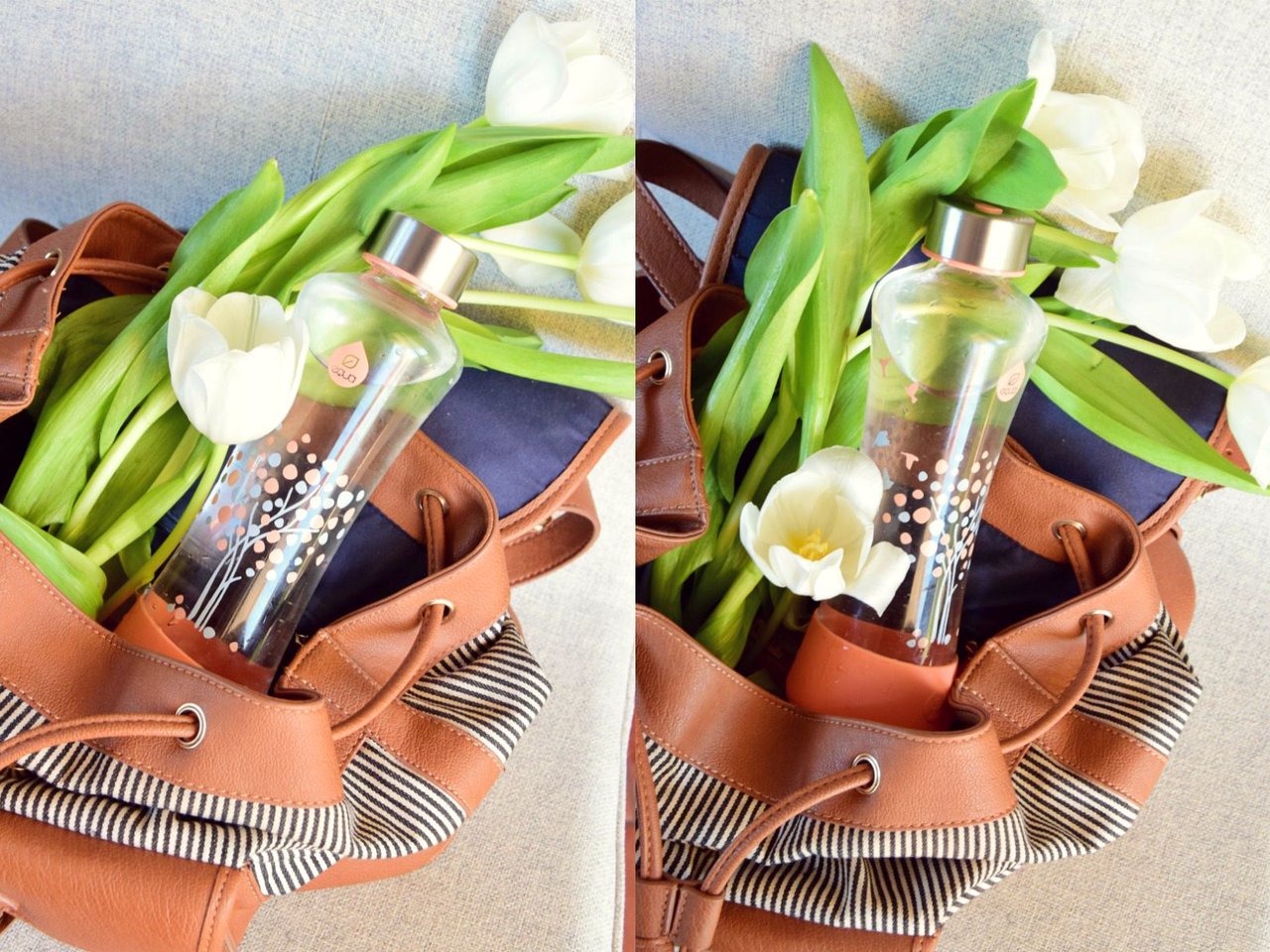 5. Bioroot glass bottle by the brand Myequa
 I wanted to get myself a glass bottle that was practical, light and of a decent size that I could carry with me everywhere, for such a long time.
That's how I run into this gentle, feminie bottle that reminds me of new awakenings and harmony. I like the gentle peach colour they used to make it and the protective rubber on the bottom of the bottle.
It is very practical for work, workouts, walks...whatever. You can fit 550 ml of liquid, it is easily washable, especially if you pour in just water  like I do, it is practical to hold and has a nice big safe plug.jednostavno se pere, pogotovo ako u nju sipate samo vodu kao i ja, praktična je za držanje i ima lijep i siguran čep koji ne propušta.The price is 146,00 kn/20 euros + shipping 20,00 kn/2,50 euros.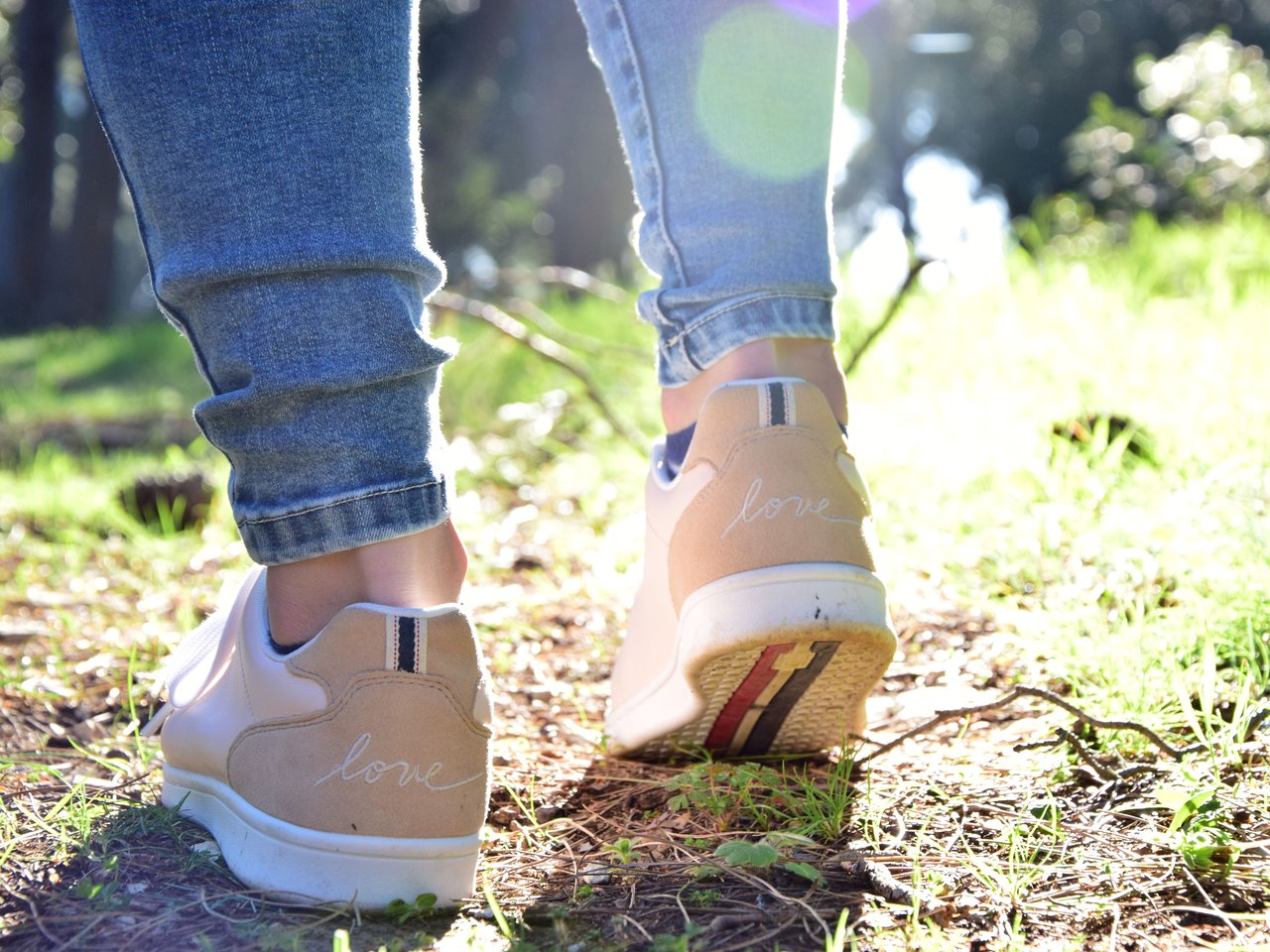 6. ED Shoebox spring snickers
As you can see, March is the month of gentle colours and positive vibes, so here they are...the gorgeous snickers by Ellen Degeneres.
I found them in Shoebox on discount, the price was about 550,00 kn/75,00 euros, if I remember correctly.
I immediately loved them because they are very gentle and feminine, they are ligth and comfortable and match almost anything I wear. I usually always wear All Stars shoes, but I make exeptions...why not?!
They carry such a nice message, and so I continue doing it by wearing them..I am spreading the love!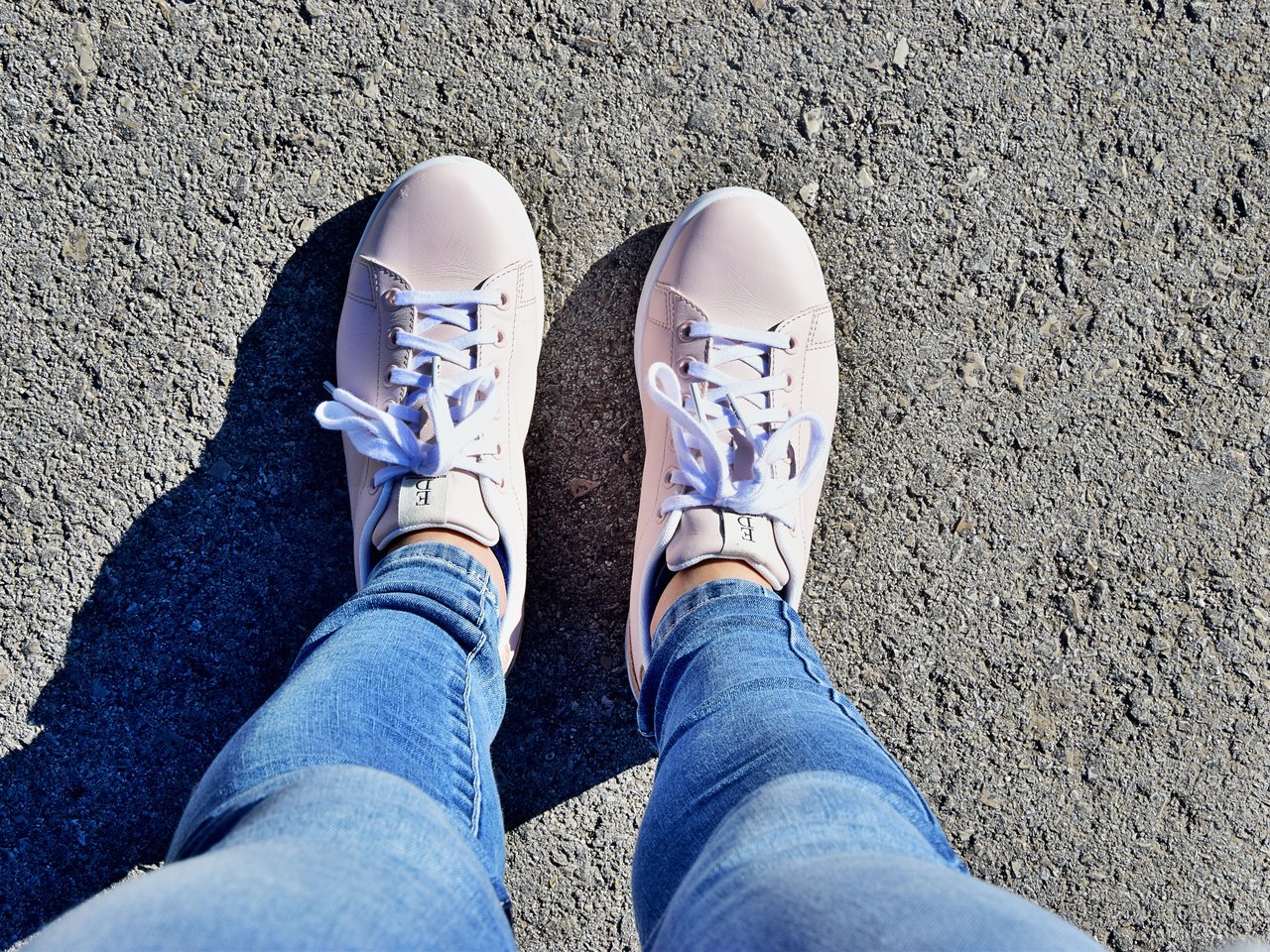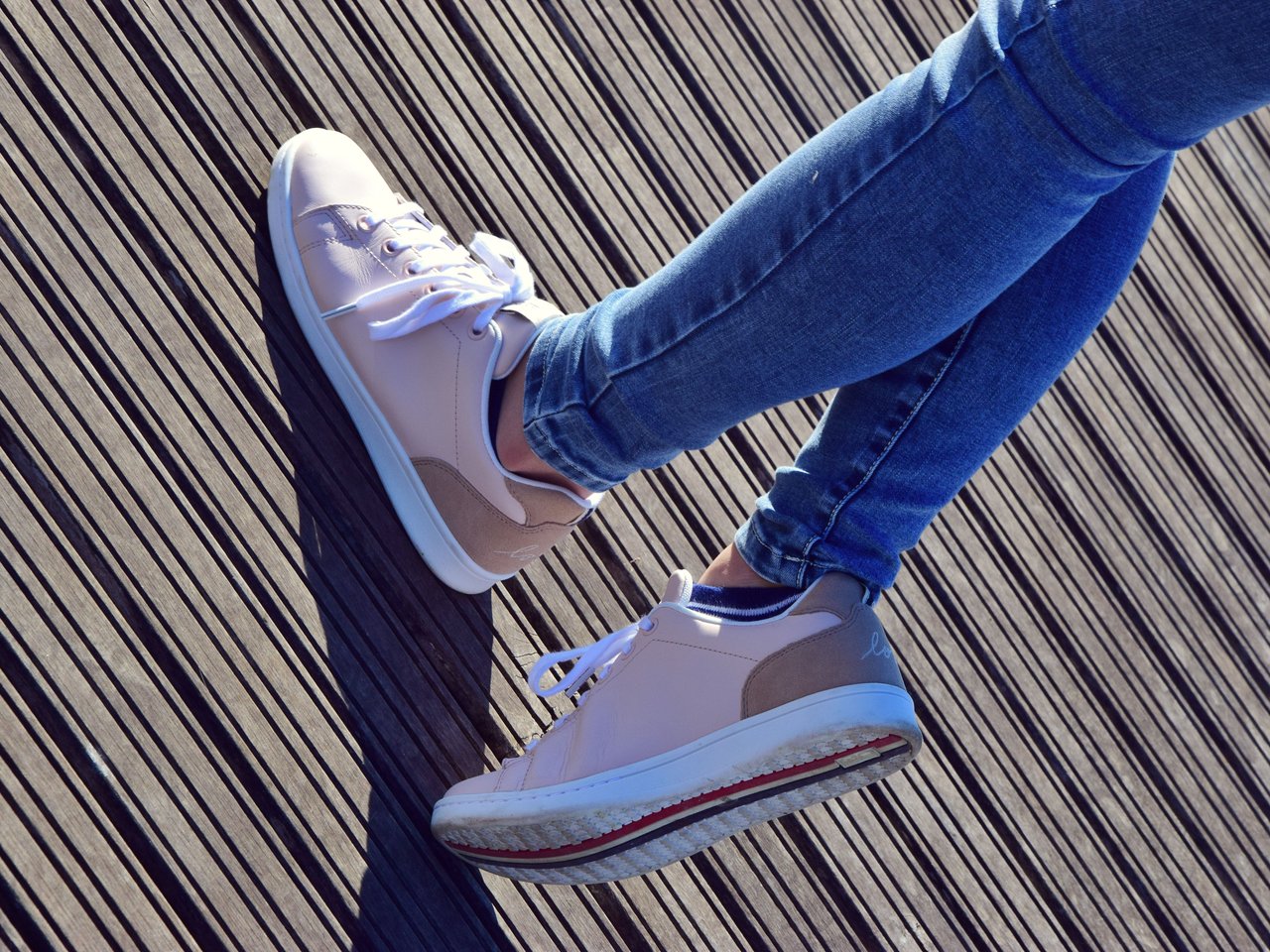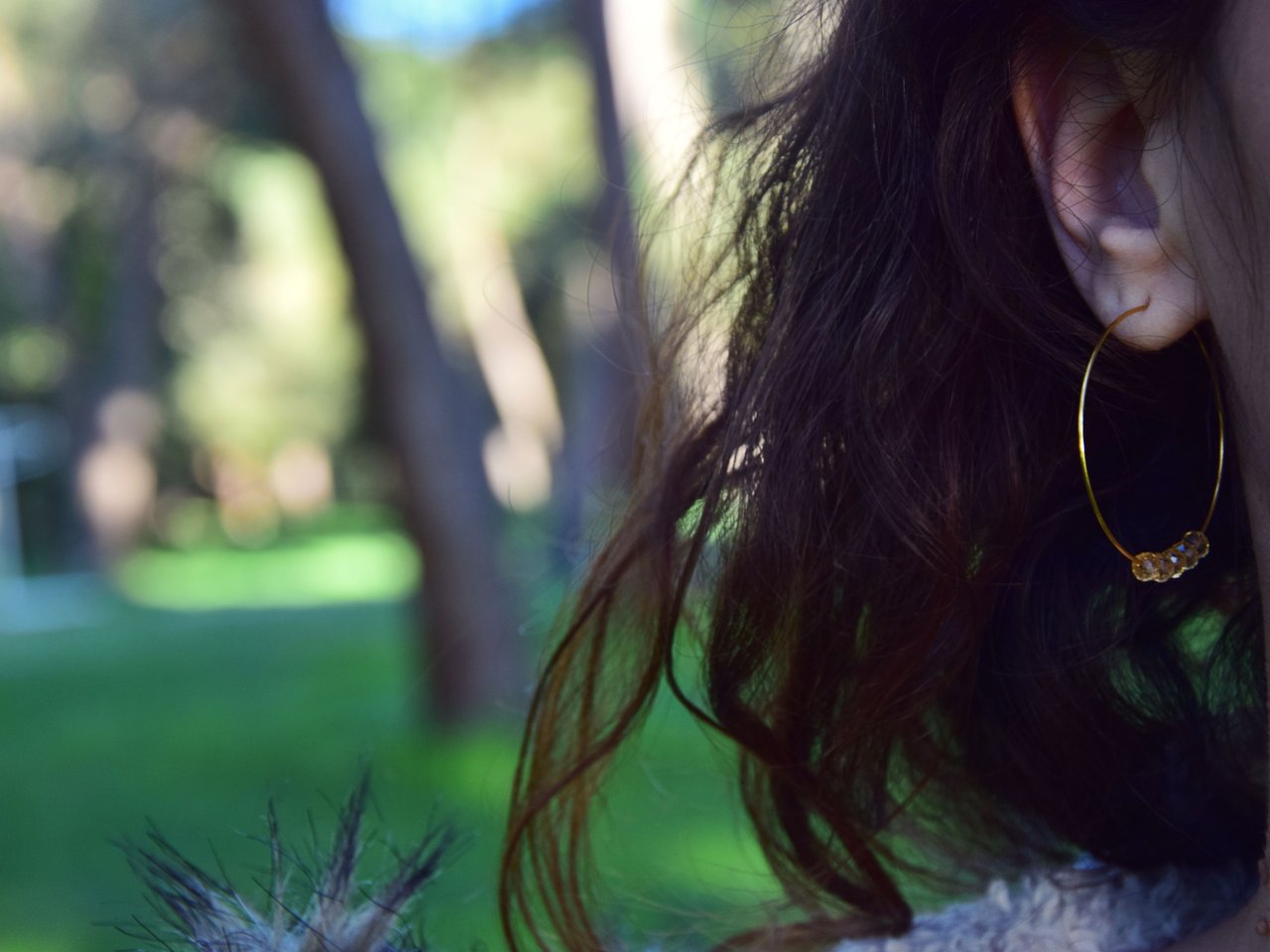 8. "Hoop" earrings or "Hoops"
I used to wear such earrings a lot when I was younger and since summer is coming, I though they would be perfect for the warm nights and wanted to get myself a pair. I ordered these through Etsy.
They are middle sized, thin and light with some Swarowski crystals that complete the whole image and make them special. 
I bought them through Etsy.com by the Daphne shop. They costed something like 200,00 kn/ 25,00 euros but I waited for them for almost 2 months...I felt bad about that because it was by first order throgh that page, but lastly they arrived! They will be "it" this summer and a reminder of my highschool days.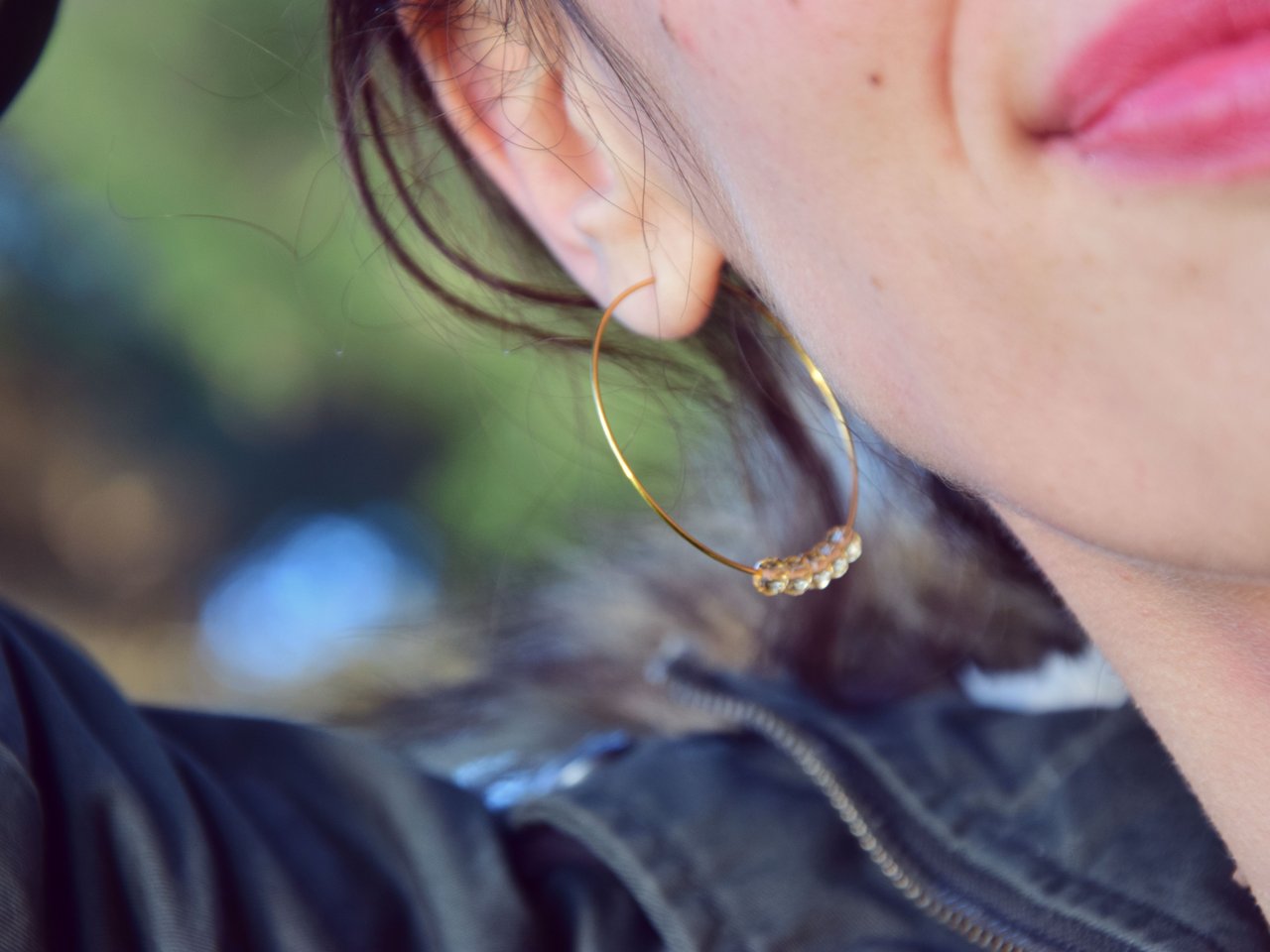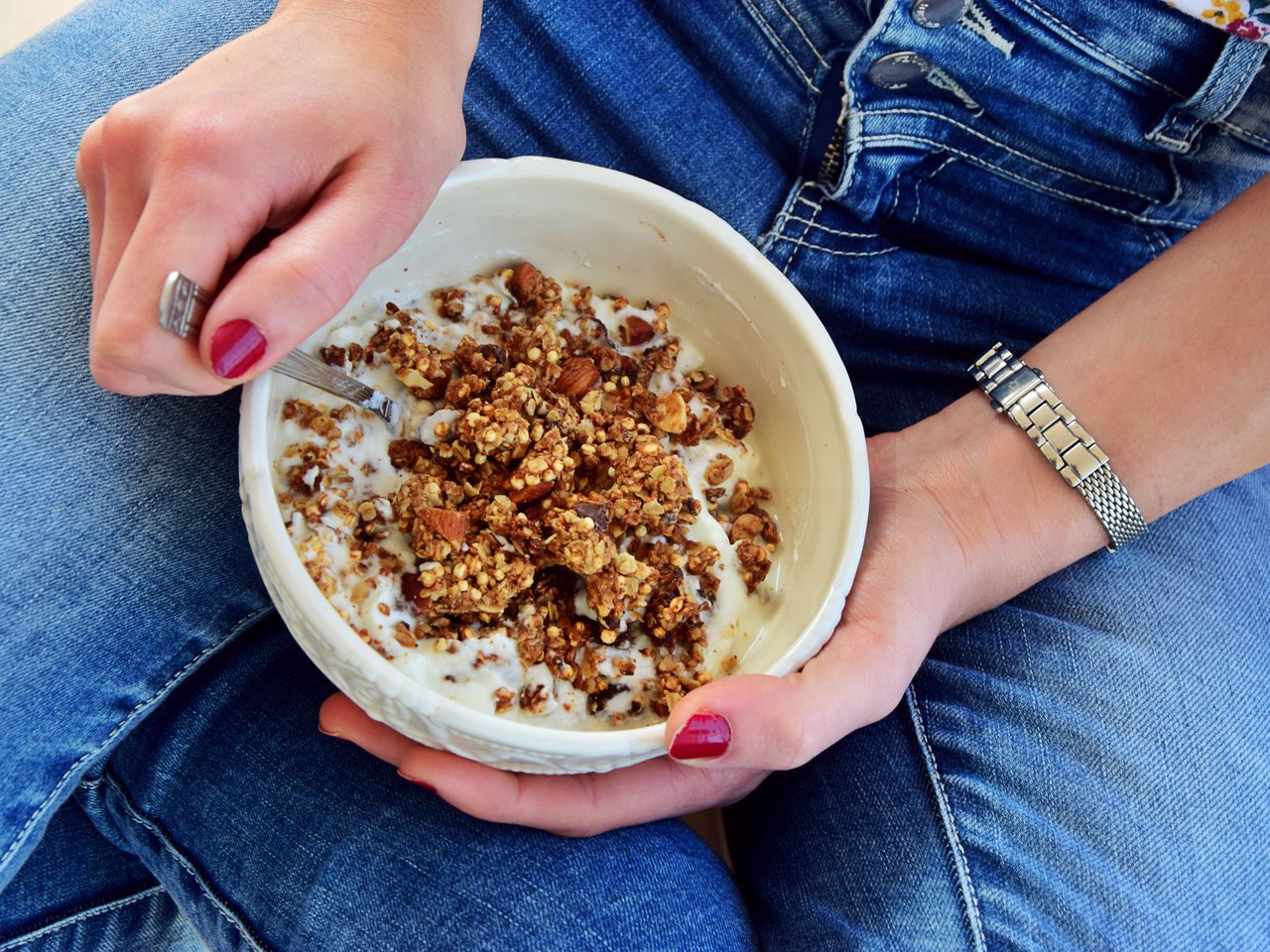 9.Homemade crunchy almond butter granola...yummy!!
The recipe will be online next week!
10. Documentary "Unusual trains" by Philippe
I love watching documentaries, especially the ones by travel and learning about other cultures and fascinating places, so I really enjoyed this month in this wonderful show that runs 4 times a week on ourt HRT tv programme.
The host is fun and open and he takes us to amazing destinations by train rides.I find myself in the moment while I watch that documentary and I am really enjoying every bit of it.
Google it and find it, it is in french.
And the moment of the month...it was actually today. A nice warm sunny day by the sea..we took the dogs to a picnic as promised and loved every second of the time spent together.
Ps. Tara and Thai drove on our small boat for the first time as well today...they will certainly remember this day for a long time...as we will, too. :)