Moist and soft chocolate cake in brownie style with orange jam and rum glaze. Do I really need to say some more?!
I think this will be the last Christmas treat recipe that I publish, but never say never!
If I get some crazy " baking obsession" I won't be responsable for my actions and consequences.
Everyone will fall in love with his chocolate delight, even people that prefer fruity cakes, like me.
The orange will give it a dose of freshness and the rum will definitely complete the entire experience.
100 g extra virgin coconut oil
80 g fine Muscovado sugar
120 g dark chocolate*
2 tbsp maple syrup
2 eggs
1 tbsp raw cocoa powder
2-3 tbsp orange jam
100 g spelt flour
2/3 tsp baking powder
* I used half regular dark chocolate and half dark chocolate with orange flavour.
2 tbsp orange jam
11/2 tbsp rum
For the chocolate coating
1tbsp extra virgin coconut oil
about 65 g dark chocolate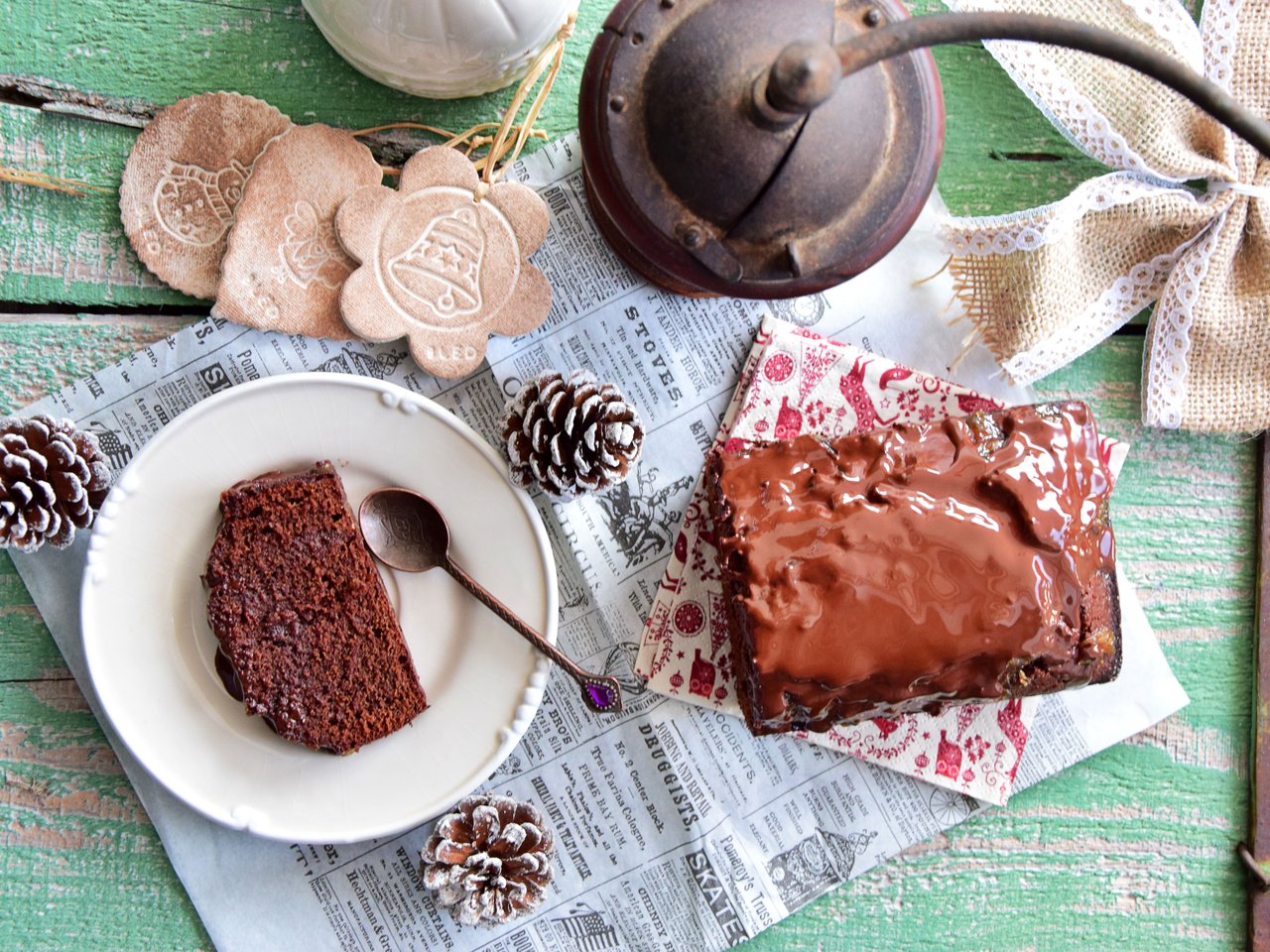 Melt the coconut oil and chocolate over low heat, gradually stiring in the sugar as well.
Turn off the heat.
After the main ingredients have melted, add the cocoa powder, maple syrup and the orange jam and stir well.
At the very end be careful that the mixture isn't very hot so you can add one by one egg. Stir continuosly and vigourosly in order to combine the ingredients nicely.
Pour in the flour and baking powder, stir again in order to get a nice smooth and thick mixture.
Bake on 180oC for about 20-25 minutes, depending on the oven and tray you are using which it has to be greased and floured, the long one that is usually used for baking breads.
Check the cake with a toothpick to see if it's done. It shouldn't be sticky, but the brownie will definitely be moist once done.
Do not overbake!
Take the cake out of the oven and prepare the glaze.
Heat the rum and orange jam shortly and stir well.
Take the cake out of the tray and "fork" the top with a toothpick.
Pour the glaze all over the top.
Meanwhile prepare the chocolate coating by melting the coconut oil and chocolate over low heat and then pour it all over the rum glaze.
That's it, your chocolate sweetheart is ready to be served!